The National Park Service has released the Ross Lake NRA Draft General Management Plan and EIS for comment. The place to start is the NPS website: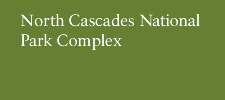 http://www.nps.gov/noca/parkmgmt/rlna-gmp.htm
There you can download the Executive Summary by clicking "
Download Newsletter #3 - The Executive Summary of the Draft Plan
"
American Alps advocates for the conversion of substantial amounts of this NRA into National Park designation, but this plan review process is on a fixed schedule so it will be proceeding before the American Alps proposal will come to fruition. We urge you to attend one or more of the
public hearings
and/or
write comments
in support of
Alternative "C,"
which NPS identifies as offering the greater conservation values for this area now, until it can be converted to Park.
The public comment period ends Sept. 30, 2010.
Public hearing schedule:
Wednesday, July 21, 6:00 pm – 8:00 pm
Sedro-Woolley, WA
North Cascades NPS Complex Headquarters
810 State Route 20
Thursday, July 22, 6:00 pm – 8:00 pm
Marblemount, WA
Marblemount Community Center
60055 State Route 20
Saturday, July 24, 10:00 am – 12:00 pm
Newhalem, WA
North Cascades Visitor Center
Tuesday, July 27, 6:00 pm – 8:00 pm
Seattle, WA
REI Seattle Flagship Store, North Room
222 Yale Avenue North
Wednesday, July 28, 6:00 pm – 8:00 pm
Bellingham, WA
Bellingham Senior Center
315 Halleck Street
Thursday, July 29, 6:00 pm – 8:00 pm
Winthrop, WA
Winthrop Barn
51 N Highway 20