We saw Lee last at the Skagit Land Trust annual meeting in April, where he presented one of his last public slide shows. He will be missed. We honor his work in support of North Cascades National Park.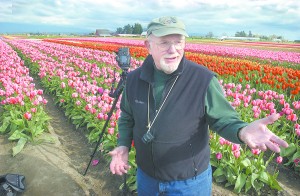 To listen to Lee tell the story of his career last April, download the mp3 recording of his presentation at:
It's about 17MB. We apologize for some of the audio quality.
The following excerpt will give you a feeling for his passion:
55 years ago Lee Mann climbed to Sahale Arm above Cascade Pass. He slept under the stars, and next morning hawks are soaring on the ridges, and one lands near him "...about 10 or 12 feet above my head. And he looked in my eyes, and we had this little exchange. I looked at him and he looked at me, and it seemed to go on for a long time. And finally he's seen enough, and he took to his wings. I thought "That's really amazing!" And I sat up, and here were these beautiful mountains all around, and it was a crystal morning, and a dew had settled overnight, and every blade of grass, every piece of heather was covered with millions and millions of diamonds. And I was sitting there in this wonderland with millions of diamonds around me! And here I was - I had it all to myself, it was all mine! And suddenly something in my heart just changed. And I knew that my life was going to be different from there on out. I knew that my life was going to have something to do with the mountains."
Story from the Skagit Hearld:
http://www.goskagit.com/article_48711c84-b815-11e0-a83f-001cc4c002e0.html
Posted:
Wednesday, July 27, 2011 5:45 am
SEDRO-WOOLLEY — Longtime nature photographer and naturalist Lee Mann died Thursday after a short and sudden battle with cancer. He was 75.
Over more than 40 years in photography, Lee Mann operated four different storefronts, including one inside the Space Needle in Seattle.
His photography prompted him to support organizations like the Skagit Land Trust and the creation of the North Cascades National Park.
"He loved this valley and he loved the environment of the North Cascades," son Bryce Mann said. "It was his greatest joy and his life's work."