North Cascades National Park expansion
will clearly benefit conservation in North Cascades ecosystems, especially biodiversity protection.
But a bigger, more complete park will not just preserve wild places, we also anticipate that the new national and international attention this brings to the area will
deliver some big economic benefits
to local gateway communities.
The American Alps Legacy Project
is assessing these economic benefits of national park expansion. In particular, we expect
more visible park gateways and new visitor centers
in the Methow and upper Skagit Valleys to directly improve the economies of gateway communities such as Marblemount, Rockport, Concrete, Mazama, Winthrop, and Twisp.
Here are some ways an expanded park will offer potential economic benefits:
Increased Park Service Expenditures
- Jobs associated with new visitor centers*
- Jobs associated with recreation resource development and maintenance (trails, campgrounds)
- Jobs associated with interpretation, enforcement, and management
- Local Park Service expenditures (e.g., building supplies, office supplies, etc.)
Economic Impact on Gateway Communities
- Direct benefits associated with increased visitation (sales, jobs, wage increases)
- travel
- lodging
- food
- goods
- services
- Indirect benefits of expenditures rippling through local economies
Economic Growth Benefits in Gateway Communities
- Individuals and businesses attracted to parks (population, employment, per capita income)
- Knowledge-based businesses that want good communication and transportation infrastructure
- Retirees bringing investment based income
In fact, we expect the residents of the Skagit and Methow valleys to be some of our biggest supporters!
Help us collect information, make contacts and gauge the situation "on the ground" in these areas
- contact Jim Davis at
jimdavis@northcascades.org
.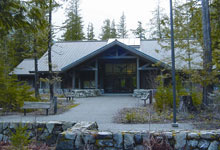 *Here's the only real Visitor Center that exists today, some 10 minutes off of Hwy 20 near Newhalem -->
We could sure use ones lower-down, and on the highway, on both sides of the passes!